"This is nothing but the murder of democracy after failing to secure majority for the illegally-appointed Prime Minister Mahinda Rajapaksa in the 225-member Parliament of Sri Lanka." – stated Mr Dilip Kanti Chakma, Director of Asian Centre for Human Rights (ACHR).
President Sirisena had unconstitutionally ousted Prime Minister Ranil Wickremesinghe on 26 October 2108 and appointed former president Mahinda Rajapaksa as the Prime Minister of the United People's Freedom Alliance (UPFA) government. However, as Prime Minister Wickremesinghe of the United National Party (UNP) refused to leave the post and demanded a vote in parliament to prove his majority in the House, the President prorogued the Parliament until 16 November 2018.
President thereafter decided to reconvene the parliament on 14 November 2018. However, as he failed to secure the majority for Mahinda Rajapaksa, on 9 November 2018, he dissolved the parliament without giving the opportunity to Prime Minister Wickremesinghe to prove his majority on the floor of the house.
The dissolution of the parliament by President violates Article 70 of the Constitution as amended under the 19th Amendment. Article 70 of the Constitution provides that
"(1) The President may by Proclamation, summon, prorogue and dissolve Parliament:

Provided that the President shall not dissolve Parliament until the expiration of a period of not less than four years and six months from the date appointed for its first meeting, unless Parliament requests the President to do so by a resolution passed by not less than two-thirds of the whole number of Members (including those not present), voting in its favour."
Instead, the Extraordinary Gazette Notification issued by the President dissolved the parliament "by virtue of the powers vested … by paragraph (5) of Article 70 of the Constitution of the Democratic Socialist Republic of Sri Lanka to be read with paragraph (2) (c), of Article 33 of the Constitution of the Democratic Socialist Republic of Sri Lanka and paragraph (2) of the Article 62 of the Constitution of the Democratic Socialist Republic of Sri Lanka and in pursuance of the provisions of Section 10 of the Parliamentary Election Act, No. 01 of 1981." These provisions do not deal with the dissolution of the Parliament.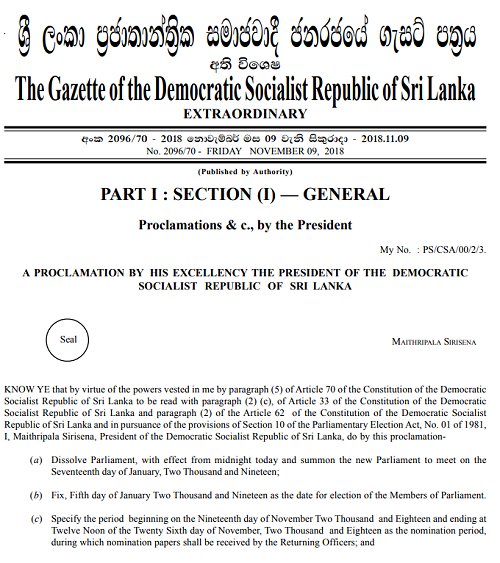 Asian Centre for Human Rights called upon the United States, European Union, India and the United Nations to impose sanctions on President Sirisena against the murder of democracy in the country.
"Unless severe sanctions are imposed against President Sirisena by the international community, he can dismiss any new government without proving majority in the floor of the house if his preferred political party does not win the majority in the next elections." – further stated Mr Chakma.