News Click, 
23 Jan 2019
During January to August 2017, 204 custodial deaths were reported in UP, and by February 2018, the numbers had almost doubled.
Abdul Alim Jafri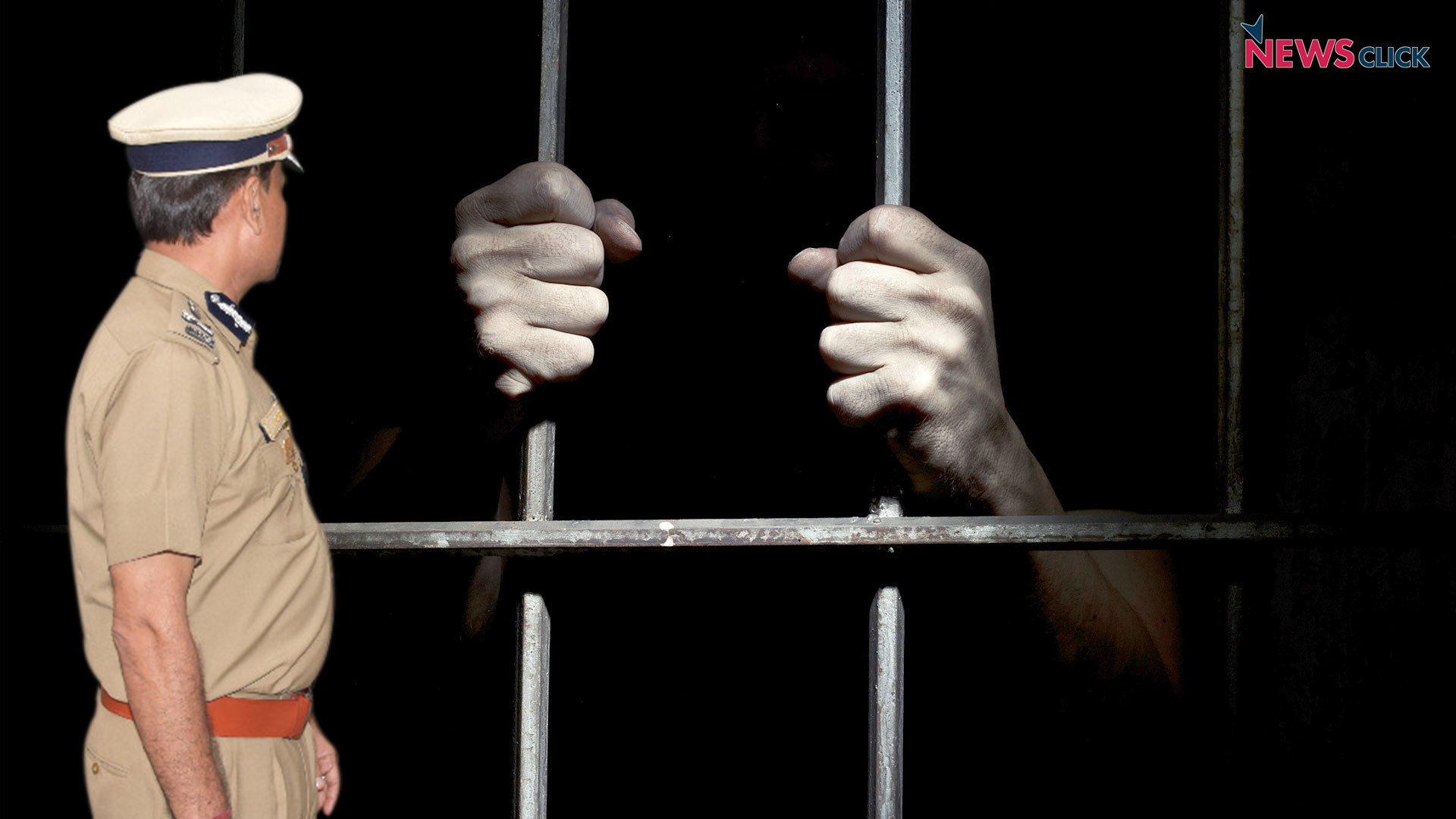 Abdul Raheem, 38, who was arrested in suspicion of theft charges, died in King George's Medical University (KGMU) in Lucknow on Monday, January 21, after allegedly suffering third-degree torture in jail. The family of the victim alleged that he was beaten black and blue by the police. There were injury marks on his back. The police, however, have denied the charges but said that action will be taken against those found guilty.
This case has exposed the tall claims by Uttar Pradesh Chief Minister Yogi Adityanath that the law and order situation in UP is the best the state has seen in the last 15 years.
Abdul Raheem was arrested on January 14 on charges of auto-lifting and was sent to Gosaiganj jail the next day. According to a report by The Times of India, Assistant Superintendent of Police (West) Vikas Chandra Tripathi had said that Raheem's medical examination had been done at a hospital in Thakurganj before producing him in court and the report showed no visible injury.
Ironically enough, Deputy Inspector General (Prison) Umesh Chandra Srivastava said that Raheem had been brought to Gosaiganj prison on January 15 when he complained of severe pain and was taken to a doctor, who too acknowledged his injuries on the shoulders, hands and hip. But since the injuries were not critical, he was taken back to prison.
Custodial Deaths in UP
Raheem's death is not the first custodial death in Uttar Pradesh jails due to torture by police. Recently, on December 26, a 30-year-old dalit man, Balkishan Jatav had died in police custody in Amroha district of western UP. His family members had alleged that they had to sell their jewellery to pay the bribe demanded by policemen for Balkishan's release.
In a similar case in November last year, a 32-year-old man Hemant Kumar, arrested in a theft case, had died in a police station after he was allegedly tortured in front of his 55-year-old mother. The entire Sikandara police station of Agra city was booked for murder. An inspector and two sub-inspectors have also been suspended for the same.
Also Read: High Numbers of Custodial Deaths: Police Butchering Basic Human Rights
According to the Asian Centre for Human Rights (ACHR) report, released on June 26, a total of 1,674 custodial deaths, including 1,530 deaths in judicial custody and 144 deaths in police custody, took place from April 1, 2017 to February 28, 2018. This means that on an average there were about five custodial deaths per day in the aforementioned period.
Uttar Pradesh has had the worst record with respect to custodial deaths. During January to August 2017, 204 such deaths were reported in UP, and by February 2018, the numbers had almost doubled.
Speaking with NewsClick over the deaths in jails and the condition of prisons, Vibhuti Narain Rai, former Superintendent of Police who has also pursued the Hashimpura massacre said, "Uttar Pradesh has worst prisons as compared to other states. In this particular incident, the jailer had claimed that when Raheem was sent to jail, he was already injured. This means that he was beaten in the station by the police and on realising, Raheem's critical condition they shifted him to the prison."
He further added, "The jails in UP have become hubs of organised crimes, and criminals here get facilities according to their financial capacity. In many cases, police threatened poor people saying that if they could not pay the bribe they will be beaten mercilessly, will not be provided human facilities, etc. Most of the jails are over-crowded, and are without proper arrangements for sleeping, toilets, etc. Meanwhile, post of jailers and superintendents are auctioned, especially in the jails of western UP including Meerut, Ghaziabad, Muzaffarnagar, and Noida, as rich criminals and leaders are usually sent there and the jailer gets paid accordingly."
When questioned about the deteriorating law and order condition in UP and Adityanath's claims, Rai told, "You cannot resolve crimes while torturing. The UP police under the Adityanath government has turned into a band of killers. By giving license to the police for killing criminals in the name of encounter, you cannot maintain law. Instead, it will remain as it is. Coming to the CM's claims on the law and order situation in the state, everyone knows that data can be misleading."
Fake Encounters  
Ever since the Yogi Adityanath government came to power in UP, the UP police have conducted 1,038 encounters in which 32 were killed till 2018.
According to the National Human Rights Commission (NHRC), in the past 10 months over 1,680 cases of custodial deaths were registered across the country. Union Minister of State for Home Hansraj Gangaram Ahir had informed the Lok Sabha last year in March, that the NHRC had registered 365 cases of judicial and custodial deaths in Uttar Pradesh, 127 such cases in West Bengal, 118 cases each in Punjab and Maharashtra, 107 in Madhya Pradesh, and 102 cases in Bihar.
Also Read: UN Experts Alarmed by Extra-Judicial Killings in Yogi Adityanath-Ruled UP
During this period, 19 cases of alleged fake encounters were also registered by the NHRC, of which six had taken place in Uttar Pradesh.