The Tribune
Posted at 27 June 2018
Satya Prakash
Tribune News Service
New Delhi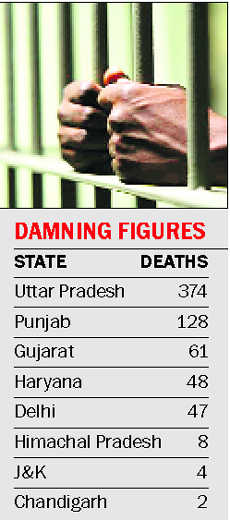 At least five Indians died in custody every day between April 2017 and February 2018, Asian Centre for Human Rights (ACHR) said on Tuesday.
Based on figures placed by the Union Ministry of Home Affairs in the Rajya Sabha on March 14, the report, titled "Torture Update India", was released on the International Day in Support of Victims of Torture 2018.
According to the report, 1,674 custodial deaths—1,530 in judicial and 144 in police custody—occurred during the said period. This turns out to be higher than average four custodial deaths a day during 2001 to 2010.
Uttar Pradesh topped the list with 374 custodial deaths, followed by Maharashtra (137), West Bengal (132), Punjab (128), Madhya Pradesh (113), Bihar (109), Rajasthan (89), Tamil Nadu (76), Gujarat (61), Odisha (56), Jharkhand (55), Chhattisgarh (54), Haryana (48), Delhi (47), Assam (37), Andhra Pradesh (35), Uttarakhand and Telangana (17 each), Karnataka (15), Himachal Pradesh (8), Arunachal Pradesh and Tripura (6 each) and Chandigarh and Sikkim (2 each). Surprisingly, insurgency-hit states such as Jammu & Kashmir and Meghalaya (4 each), Mizoram (3), Manipur, and Nagaland (2 each) reported considerably lower number of custodial deaths.
The ACHR said India must ratify the UN Convention Against Torture (UNCAT) – which it signed in 1997 and demanded that the government should place the Prevention of Torture Bill of 2017, as drafted by the Law Commission, before Parliament during the monsoon session.
Even neighbouring Bangladesh, Nepal and Sri Lanka had ratified UNCAT and enacted national laws against torture, it claimed.
"The ratification of the UN Convention Against Torture is also indispensable if India is serious to extradite fugitives to India as the UNCAT prohibits refoulment or extradition where there are substantial grounds for believing that the requested person sought to be extradited would be in danger of being subjected to torture," ACHR said.
"India has already lost the case of extradition of Kim Davy, an accused of Purulia arms dropping case of 1995 in Denmark and extradition of Sanjiv Chawla, an alleged cricket bookie in the United Kingdom on the ground that prison conditions in India amount to torture or inhuman or degrading treatment or punishment and that India has not ratified the UNCAT," it said. Unless India removed the legal hurdled by ratifying the UNCAT, it might lose other extradition requests as well, it said.