The Times of India
Umamaheswara Rao | TNN | Updated: Sep 17, 2020
VISAKHAPATNAM: Andhra Pradesh stands fifth in the country for number of jails reporting Covid-19 cases. The state currently has 28 jails which have reported coronavirus cases and is preceded by Uttar Pradesh (35 jails); Madhya Pradesh (34); Maharashtra (32); and Odisha (31). The data was revealed in the National Campaign Against Torture (NCAT) report — The Status of Covid-19 in Indian Prisons.
As per the report, of the 1,350 jails in the country, infections have been reported from at least 351 jails in 25 of the 36 states/Union Territories as on August 31. The report also revealed that of all the jails in the country, 538 prisons (nearly 40%) were overcrowded. The study found the jails were overcrowded by 1% to 636% beyond their sanctioned capacity thus increasing the risk of the virus being spread among prisoners even if one inmate was infected.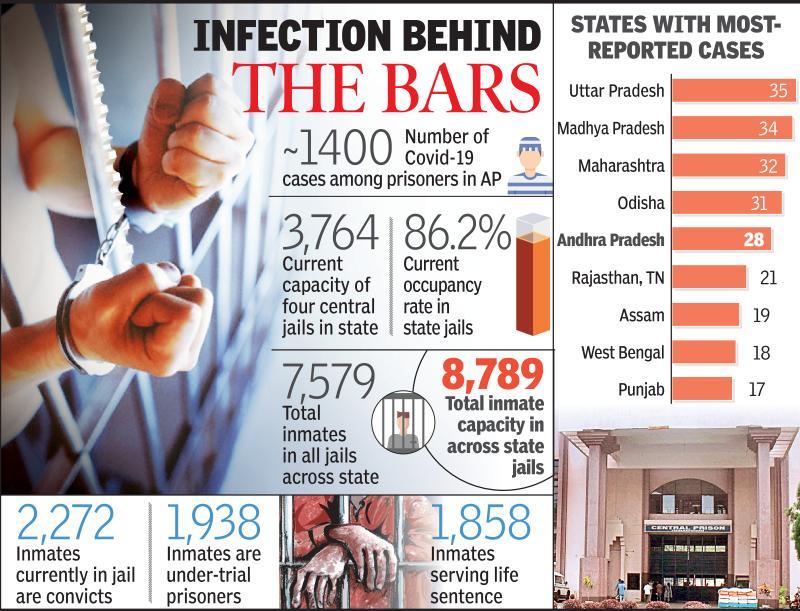 As per the official statistics provided by the state prisons department, around 1,400 prisoners in various jails across the state have contracted the virus. One of these prisoners was on dialysis and had succumbed to the disease. Inmates who had tested positive were being treated in their respective jails. However, the prisons department did release over 430 prisoners on interim bail following the Covid-19 outbreak.
"As per the Prison Statistics India-2018, which provides the latest information on prison-wise overcrowding — an issue not covered by the Prison Statistics India-2019 — out of the 538 overcrowded prisons, 34 prisons were found to have overcrowding ranging from 201% to 636%. Around 100 prisons had overcrowding varying from 100% to 200% and 404 prisons ranging from 1% to 99%," said NCAT coordinator, Suhas Chakma.
As per the latest prisons statistics released by the National Crime Records Bureau (NCRB), the four central jails in Andhra Pradesh had an occupancy of 112% by December 31, 2019.
Director general of prisons and correctional services Mohd Ahsan Reza said that at present the prisons, including central prisons in Andhra Pradesh, are not overcrowded as altogether around 7,900 to 8,000 inmates were currently lodged in various prisons of the state. "We have enough space in the jails to handle the situation and have been taking measures to prevent the spread of virus," the director general said.