Maktoob 
29 June 2020
1,731 persons died in custody in India during 2019 which makes five deaths daily, according to the annual report published by National Campaign Against Torture (NCAT), a rights group.
The report was published on Friday, which observed International Day in Support of Victims of Torture.
The report says 1,606 deaths happened in judicial custody and 125 deaths in police custody. During 2018, a total of 1,966 custodial deaths were reported including 147 deaths in police custody and 1,819 deaths in judicial custody.
Of the 125 cases in police custody, 93 persons (74.4%) died due to alleged torture or foul play, while 24 (19.2%) died under suspicious circumstances in which the police cited suicide (16), illness (seven) and injuries (one). The reasons for the custodial death of five others (4%) were unknown, says the report.
During 2019, death of at least four women during police custody was reported.
State Wise Map of Police Custodial Death in 2019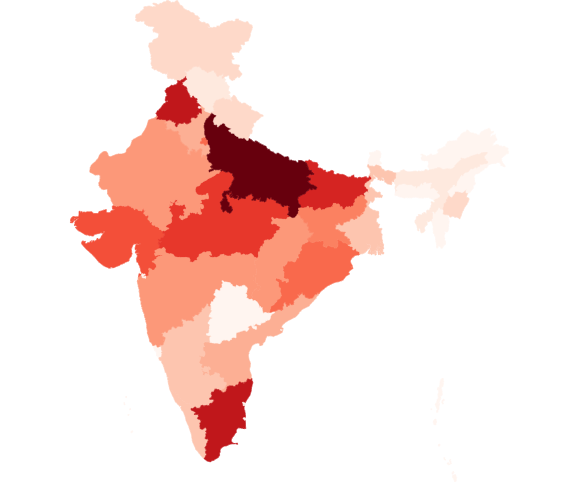 Out of the 125 deaths in police custody, Uttar Pradesh topped with 14 deaths, followed by Tamil Nadu and Punjab with 11 deaths each; Bihar with 10 deaths; Madhya Pradesh with 9 deaths; Gujarat with 8 deaths; Delhi and Odisha with 7 deaths each; Jharkhand with 6 deaths; Chhattisgarh, Maharashtra and Rajasthan with 5 deaths each; Andhra Pradesh and Haryana with 4 deaths each; Kerala, Karnataka and West Bengal with 3 deaths each; Jammu & Kashmir, Uttarakhand and Manipur with 2 deaths each; and Assam, Himachal Pradesh, Telangana and Tripura with 1 death each.
Paritosh Chakma, Director of the NCAT, stated that "Out of the 125 deaths in police custody, 75 persons or 60% belonged to the poor and marginalised communities. These included 13 victims from Dalit and tribal communities, 15 victims belonged to Muslim minority community, 37 victims were picked up for petty crimes such as theft/ burglary/ cheating/ selling of liquor illegally, gambling, etc which indicate their economic status.
Custodial torture methods include hammering iron nails in body, hitting private parts and applying chilly power in private parts, urinating in mouth, forcing to perform oral sex etc.
"Torture is perpetrated to extract confession or bribes and torture methods used in 2019 included hammering iron nails in the body (Gufran Alam and Taslim Ansari of Bihar), applying roller on legs and burning (Rizwan Asad Pandit of Jammu & Kashmir), 'falanga' wherein the soles of the feet are beaten (Rajkumar of Kerala), stretching legs apart in the opposite side (Rajkumar of Kerala), hitting in private parts (Brijpal Maurya and Lina Narjinari of Haryana), pricking needle into body (3-year-old minor of Tamil Nadu), beating after stripping (Mohammed Tanveer and Lina Narjinari of Haryana; Minuwara Begum, Sanuwara and Rumela of Assam), and kicking in belly of pregnant woman (Minuwara Begum of Assam)." – stated Chakma.
United NGO Campaign Against Torture (UNCAT) is a platform for action of the NGOs committed to stamp out torture worldwide. They urged India to take measures to abolish torture in India by ratifying the UN Convention Against Torture, enactment of a national law against torture and end impunity for the perpetrators of torture.
These figures do not reflect the extent and actual incidents of custodial death and torture in the country warned the report.