1. Diyun police station: The torture chamber of Arunachal Pradesh?
There are 104 notified Police Stations in Arunachal Pradesh and as per the National Human Rights Commission (NHRC), 15 deaths in police custody took place during 2009-2010 to 2018-19 (as on 20.11.2018) in Arunachal Pradesh.[1] Out of these 15 deaths, two custodial deaths i.e. Pintu Chakma (26 years) on 16 October 2014 and Diganta Saikia (33 years) on 24 November 2017, took place at Diyun Police Station under Changlang district.  While Pintu Chakma died due to alleged torture and denial of medical treatment during prolong illegal detention in police lock up, Diganta Saikia, allegedly committed suicide at Diyun police station.[2]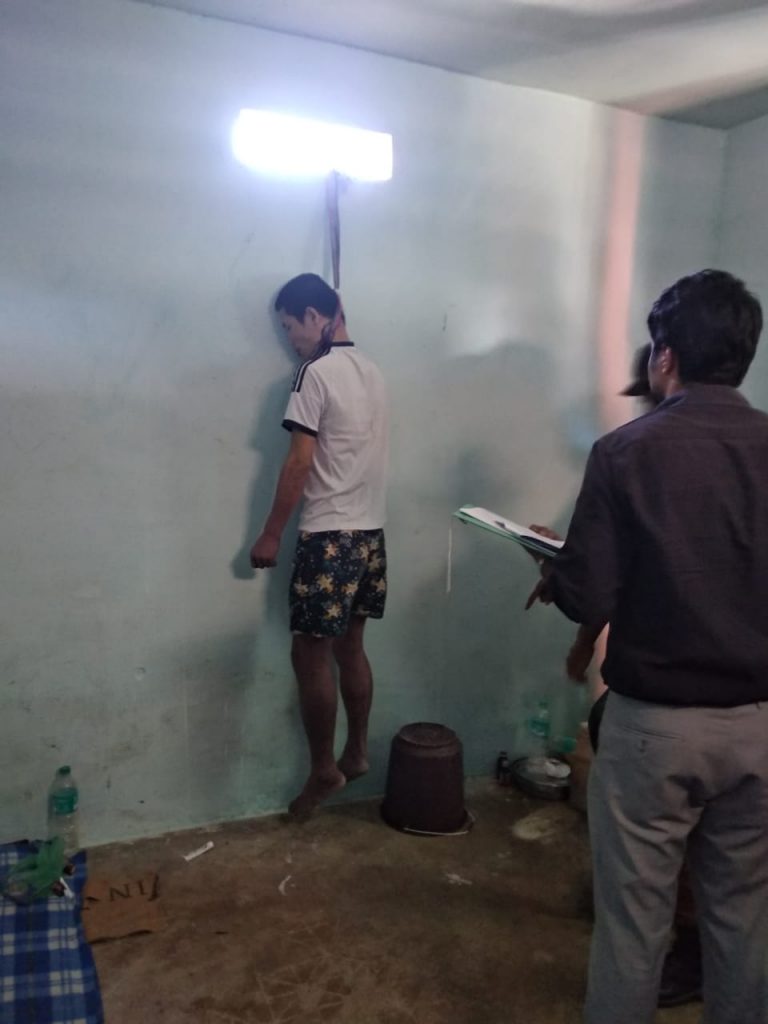 On 3 September 2019, Raj Kumar Chakma, died under suspicious circumstances at the lock-up of Diyun police station. While the Arunachal Pradesh Police claimed that Raj Kumar Chakma, an undertrial arrested in connection with a kidnapping case, committed suicide by hanging himself with a towel from the ventilator grill inside the lock-up, the manner in which Raj Kumar Chakma was found hanging raised serious questions. It was alleged that Raj Kumar Chakma was tortured after he was arrested about three months ago. Although he was in judicial custody, he was kept at the lock up of Diyun police station, where his condition deteriorated and died but the police allegedly hanged his body to project it as a case of suicide.
At the heart of the brute law enforcement at Diyun Circle lies the systematic and institutionalized discrimination against the Chakmas and Hajongs in the area.
Diyun under Changlang district is inhabited by the Chakmas and Hajongs who had migrated from East Pakistan mainly during 1964 and were settled by the Government of India following the 1962 Indo-China war. There are 31 recognised villages under Diyun Circle with a total population of over 32,000 as per the Census India 2011. Majority of the population belong to the Chakma and Hajong communities. The government of India treated the Chakmas and Hajongs as citizens and provided employment in the government and enrolled them into the voter lists. However, once the anti-foreigner agitation swept Assam in 1979, Arunachal Pradesh suddenly disrobed the Chakmas from all entitlements one after another. For instance, the State Government vide order No. Pol 21/81 dated 29 September 1980, banned employment and vide order No. FPSO-3/90-91 dated 31 October 1991 withdrew rations under the Public Distribution System. Thereafter, the Chakmas and Hajongs formed the Committee for Citizenship Rights of the Chakmas and Hajongs of Arunachal Pradesh on 2 October 1991. The State government of Arunachal Pradesh effectively enforced lawless law enforcement in which torture and harassment became an instrument. Though the Supreme Court has declared the Chakmas and Hajongs as citizens in its judgment in the case of National Human Rights Commission (NHRC) Vs State of Arunachal Pradesh on 6 January 1996 and many of the descendents of the migrants have been voting as citizens, the methods of law enforcement has not changed.
Torture and harassment is routine at Diyun police station. People, including those arrested for petty crimes, are often subjected to torture during interrogation.
The police also found out an ingenious way to extort money in the name of so-called bail bond. Once detained, each individual is required to pay bail bond for release. Those unable to pay bribes are held in prolong detention in police lock up at Diyun police station. For example, Pintu Chakma was arrested on 30 April 2014 under the Narcotic Drugs and Psychotropic Substances Act, 1985 for consumption of drugs [Section 27(1)] along with four other persons who were released on bail within few days except Pintu. Pintu Chakma was denied bail as he allegedly could not pay bribe to the police. He was sent to judicial custody but not shifted to jail, and kept in prolong detention in sub-human condition at the Diyun police lock-up and died there on 16 October 2014.[3]
Even children are not spared. On 2 August 2012, a minor (name withheld), s/o Bisnu Chakma and three others identified as Balo Kumar Chakma (57), s/o Lt. Chidilya Chakma, Nama Chandra Chakma (56), s/o Lt. Lolit Kumar Chakma and Bimal Chandra Chakma (37), s/o Sri Prana Dhan Chakma were arbitrarily picked up from their houses and taken to Diyun police station. The victims, all residents of Sukhanala village under Diyun circle, were picked up on mere suspicion in connection with a theft case. They were allegedly not produced before the Court as required under the law and illegally detained for four days at the lock up of the police station. They were also not medically examined. The victims were produced before the local Magistrate only on 6 August 2012 at about 4 pm. According to the relatives of the victims and local villagers, the victims were subjected to physical and mental torture during interrogation to extract confession. As the minor was detained at the police station in violation of the provisions of the Juvenile Justice (Care and Protection of Children) Act, 2000 which was not noted by the Magistrate, the NHRC held it a case of human rights violation and recommended the Arunachal Pradesh government to pay Rs. 50,000 as compensation to the minor victim.[4]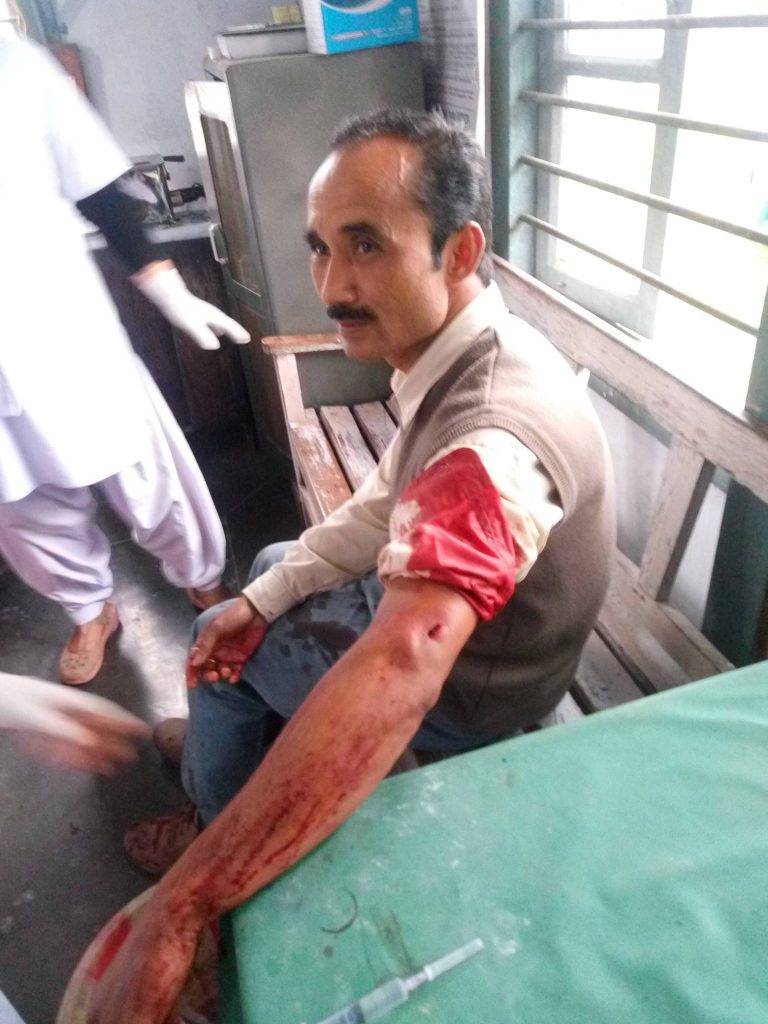 It is not only the police, even civil officials resort to torture at Diyun area. On 29 March 2016, Adesh Chandra Hajong, a village Headman and Vice President of the Citizenship Committee for the Chakmas and Hajongs of Arunachal Pradesh (CCRCHAP), was brutally beaten by Executive Magistrate cum Extra Assistant Commissioner (EAC) at his office chamber at Diyun. Hajong was summoned by the Magistrate in connection with a dispute pertaining to erection of fencing over some land in his village. Once Hajong entered the office room, the Magistrate closed the door and rained blows with a cricket stump on him. The Magistrate kept on hitting Adesh till he fell down and then he dragged him to the bath room attached to his office chamber and directed him to clean the blood oozing out from the wounds. Adesh received injuries all over his body. His left arm was fractured and received several deep wounds on his chest and stomach; his private parts were swollen and bruised. Hajong was taken to Community Health Centre, Diyun but was referred to District Hospital, Changlang for expert treatment. It led to massive public protest and personnel of the Indian Reserve Battalion had to be deployed. On 8 April 2016, the NHRC directed the Chief Secretary and Director General of Police, Arunachal Pradesh to submit responses. In response, Superintendent Police (Crime), Arunachal Pradesh denied the allegations of torture by the EAC despite medical and photographic evidence. The police report further falsely claimed that 45 police personnel sustained injuries in mob violence without submitting the medical reports. Based on the police report, the NHRC closed the case asking the complainant to approach forum of law for redressal.[5]
2. The state of torture in Arunachal Pradesh
2.1 Torture in police custody
The NHRC recorded 15 deaths in police custody during 2009-2010 to 2018-19 (as on 20.11.2018) in Arunachal Pradesh. These included nil in 2009-10, 2010-11 and  2011-12; 2 in 2012-13; 1 in 2013-14; 3 in 2014-15; 3 in 2015-16, 1 in 2016-17; 3 in 2017-18; and 2 in 2018-19 (as on 20.11.2018).[6]
Some of the emblematic cases are cited below.
Case 1: Custodial death of Raj Kumar Chakma
On 3 September 2019, Raj Kumar Chakma died under mysterious circumstances at the lock-up of Diyun police station. The deceased, a resident of Tripura, was arrested by police about three months earlier in connection with the kidnapping of an employee of Udipta Energy Oil Company at Diyun on 1 April 2019. He was sent to judicial custody after production before a magistrate following his arrest, but was kept at the police lock up since then as there is no prison at Diyun. Police claimed that Raj Kumar committed suicide by hanging himself with a towel from the ventilator grill inside the lock-up wall at around 9 am when he was alone in the lock-up when two other inmates kept in the lock up were taken outside for official works.[7]
However, the manner in which Raj Kumar was found hanging raises doubt as the height of the grill is hardly seven feet. It was alleged that the body of the deceased was hanged to show it as a suicide, indicating that it was impossible to commit suicide from that height.
Case 2: Custodial death of Diganta Saikia
On 24 November 2017, Diganta Saikia (33 years), a resident of Assam, allegedly committed suicide at Diyun police station. He was taken into custody in connection with motorcycle theft cases. The custodial death triggered protests alleging that the deceased was tortured to death in custody.[8] The protestors stated that the deceased had first surrendered himself before a police station in Assam but later handed over to Arunachal Police.[9]
Case 3: Custodial death of Pintu Chakma
In the first-ever Camp Sitting in the State of Arunachal Pradesh held at Itanagar on 25 May 2018, the NHRC directed the State government .to pay compensation of Rs 200,000 to the next of kin of the custodial death victim, Pintu Chakma. The Commission vide proceedings dated 17.5.2018 found that there was lapses/negligence on the part of the Jail Administration to provide security and protection as well as necessary treatment to the victim for which the prisoner died. The Commission categorically held that the state of Arunachal Pradesh was vicariously liable. In a reply dated 29.8.2018, the State government of Arunachal Pradesh contended that the deceased prisoner was provided all necessary treatment for his illness and he died despite treatment. Further, it was submitted that no one from the family of the deceased turned up for compensation or making any claim in writing with respect to payment of the compensation. On consideration of the materials on record and taking note of the facts and circumstances of the case, the NHRC held: "Admittedly the prisoner was in the custody of the state. So it was the bounden duty of the authorities of the State for ensuring his safety". The panel of expert in the NHRC categorically held that there was negligence on the part of the authorities who were in-charge of the custody of the prisoner and held the state vicariously liable.[10]
Pintu Chakma, aged 26 years, S/o Golok Basi Chakma of Dumpani village under Diyun Circle in Changlang district of Arunachal Pradesh, was arrested along with four others by police from Dumpathar village in connection with Case FIR No. 18/2004 u/s 27(1) NDPS Act registered at Diyun Police Station on 30.04.2014. The four other accused were released on bail within few days, but Pintu Chakma was denied bail. He remained in police custody for seven days at the lock-up of Diyun Police Station. On 06.05.2014, he was sent to judicial custody and but still lodged at the lock-up of the Police Station until his death under mysterious circumstances on 16.10.2014.[11]
Case 4: Torture and forced labour of Lokhi Dhan Chakma
Lokhi Dhan Chakma, s/o Nagendra Lal Chakma (aged 36 years) was tortured by Mr DV Choudhary, the in-charge of IRBn (Indian Reserve Battalion) outpost at Kokila in Papum Pare District of Arunachal Pradesh for two days on 12- 13 September 2019. The victim, a resident of Chakma Block No. 9 under Balijan Police Station in Papum Pare District of Arunachal Pradesh, had a quarrel with his brother Dipankar Chakma regarding a land dispute on 12 September 2019. In a fit of rage, he attacked Dipankar Chakma with a dao and surrendered to the nearest IRBn outpost located at Kokila. No complaint has been filed by Dipankar Chakma or his family against Lokhi Dhan Chakma. Without conducting any investigation into the claims of Lokhi Dhan Chakma who voluntarily surrendered, the IRBn personnel led by outpost in-charge Mr DV Choudhary tied up Lokhi Dhan Chakma and brutally tortured him at the IRBn outpost. Later in the same day, Lokhi Dhan's father Nagendra Lal Chakma went to the IRBn outpost and Lokhi Dhan was allowed to go home with his father, after signing a bond that he will not commit any mischief and will present himself at the IRBn outpost next morning. The next morning (13 September 2019), Lokhi Dhan Chakma and his father, Nagendra Lal Chakma came to the IRBn outpost. The outpost in-charge, Mr DV Choudhary allegedly extorted Rs 1,000/- from Nagendra Lal Chakma. Nagendra Lal Chakma was allowed to go home after agreeing to the demand that his son (Lokhi Dhan) shall come to the IRBn outpost every day and render free labour for 15 days for the IRBn. IRBn outpost in-charge Mr DV Choudhary further asked Nagendra Lal Chakma to pay a fine of Rs 4,000 more at the earliest. Fearing more punishment, Nagendra Lal agreed to all the demands and returned to home silently.[12]
Lokhi Dhan Chakma was kept in the custody and forced to work in the IRBn outpost for the whole day on 13 September and in the evening he begged to go home. Angered by this request to go home, the IRBn outpost in-charge Mr DV Choudhary started torturing the victim who was already exhausted due to forced labour. The victim was kicked on the chest repeatedly, beaten up with stick all over the body including on the leg bones. He was released after his condition deteriorated and he collapsed after reaching home. The victim also had developed breathing problem. But he was too poor and too frightened even to go to a doctor/hospital or report the matter to the police.[13]
Case 5: Illegal detention and torture of Khunna Naam
On 23-28 May 2019, Khunna Naam (40 years) was allegedly illegally detained and tortured by police at Longding police station in Longding district. The victim, a resident of Nginu village in the district, was arrested by police led by Sub-Inspector Chopgang Lowang of Wakka police station in Longding on 23 May on suspicion of being involved in a murder case. The victim's wife alleged that the police did not inform her about her husband's arrest until she met him at the hospital on 28 May. The victim's wife further alleged that her husband was kept in the lockup at the Longding police station for five days illegally and subjected to torture during interrogation. After five days of illegal detention, the victim was produced before the local court on 28 May and was admitted to a local government health centre in a critical condition. Following the torture, the victim even could not stand on his own feet.[14]
Case 5: Alleged torture of 23 villagers by Army personnel
On 18 November 2018, at least 23 villagers including women were allegedly illegally detained and tortured by the Indian Army personnel at Longkhojan village under Longding District of Arunachal Pradesh. The victims alleged that on 18 November 2018 evening a group of army personnel from Dhangrikumar in Charaideo district of Assam conducted a search operation in Longkhojan without being accompanied by civil police and without informing the Gaon Burah (village chief). The army personnel allegedly misbehaved with both men and women and used unparliamentarily words during the search operation. The victims were allegedly forcefully dragged into the school playground and were made to kneel down with folded hands and spend the whole night without food, water and warm clothes despite it being chilling cold. The security forces also beat up many of the victims including former Longkhojan Gaon Panchayat Member Rankai Apesam, Baptist church pastor Lempo Wangjen and a woman. All of them sustained injuries. The villagers were released on the next morning only after allegedly obtaining seal and sign from the Gaon Burah on a blank paper.[15]
Case 6: Brutal assault of Mohammad Billar Ali
On 29 July 2018, Mohammad Billar Ali, a resident of Romdum in Mebo subdivision in Arunachal Pradesh's East Siang district, was allegedly brutally assaulted by Assistant Sub Inspector NK Poddar at Mebo police outpost. Ali alleged at that when he visited the police outpost at around 8 pm as some of his acquaintances were arrested, ASI Poddar shouted at him and ordered his police personnel to beat him without any reason. In a complaint addressed to the DIG (Central), the East Siang SP and the Pasighat Police Station Officer-in-Charge, Ali alleged that when the other policemen did not comply with the order Poddar himself assaulted him. He sustained a fracture in one of his fingers and subsequently lost consciousness and he regained consciousness at home. His wife said some policemen drove and left and Ali home in an unconscious state.[16]
Case 7: Brutal police assault of Dorjee Tesering Paum
On 21 December 2017, Dorjee Tesering Paum, Resident of Mechuka was brutally assaulted by one Constable Kaling Baki and six other police personnel. Cash of Rs. 37,000 was also snatched from him.  The Commission took up the matter in the Open Hearing/Camp Sitting at Itanagar, Arunachal Pradesh on 25.05.2018. The SP, West Siang, Arunachal Pradesh directed to conduct an investigation into the matter as per provisions of law and file the investigation report within six weeks. Later the matter was amicably settled by the Peace Committee.[17]
2.2 Torture and deaths in judicial custody
Arunachal Pradesh has just 2 district jails as on 31 December 2016.[18] The state does not have any central jail nor any sub-jail nor any Borstal school or open jail.
As per NHRC data, a total of 19 prisoners died in jails of Arunachal Pradesh during 2009-10 and 2017-18. This included 1 deaths in 2008-2009; 1 in 2009-10; 0 in 2010-11; 2 in 2011-12; 1 in 2012-13; 2 in 2013-14; 6 in 2014-15; 3 in 2015-16; 0 in 2016-17, and 3 in 2017-18.[19]
Case 1: Custodial death of Rajen Pulu at district jail Tezu
The National Commission of Human Rights received intimation from Deputy Superintendent of Prison, Tezu, Lohit district, Arunachal Pradesh regarding custodial death of convict prisoner Rajen Pulu, son of late Y Pulu at district jail in Tezu on 24 July 2018. The Commission took cognizance of the said intimation and called for reports from the Official concerned. On receipt of various reports, the Commission had asked the Investigation Division to analyse those reports and submit its views and suggestions.[20]
Case 2:  Custodial death of Taba Tacha at Papumpare district jail
One Taba Tacha, a prisoner at district jail Jully reportedly committed suicide inside the Jail bathroom on 24 April 2018. Hailing from Jote village under Sagalee circle of Papum Pare district, Tacha was a former constable of IRbn. The custodial death has angered the family members. An FIR was lodged against jail authorities at Itanagar police station by the elder brother of Tacha. A family member has informed that a suicide note was found where Tacha is said to have written that he was forced to take his life as he was falsely implicated in a case.[21]
2.3 Torture of women and girls
There are reports of police highhandedness and torture of women and girls in Arunachal Pradesh.
Case1: Assault of Dhana Devi Chakma and attempt to arrest her at night
On the night of 7 September 2019, a woman identified as Dhana Devi Chakma (35 years), wife of Dayal Chandra Chakma of Chakma Basti-1 village in Chongkham circle in Namsai districted was allegedly assaulted by police who attempted to arrest her. The police team led by Officer-in-Charge Ajay Kumar went to the house of the woman to arrest one son of the woman in a drug related case. As the accused was not found at home, the police dragged the minor brother (about 14 years) of the accused to be taken to the police station. While the minor was being dragged to the police jeep, the woman appealed the police to not take her minor son to the police station. Meanwhile, the minor was so frightened by the police action that he ran away. At this the Officer In-Charge Ajay Kumar angered by the escape of the boy caught hold of the hand of the woman and started dragging her to the police jeep to be taken to the police station. There was no female police personnel. Hearing the noises, some students identified as Chiko Chakma (21), Subash Chakma (22), Premojyoti Chakma (21) and Jyoti Chakma arrived at the scene.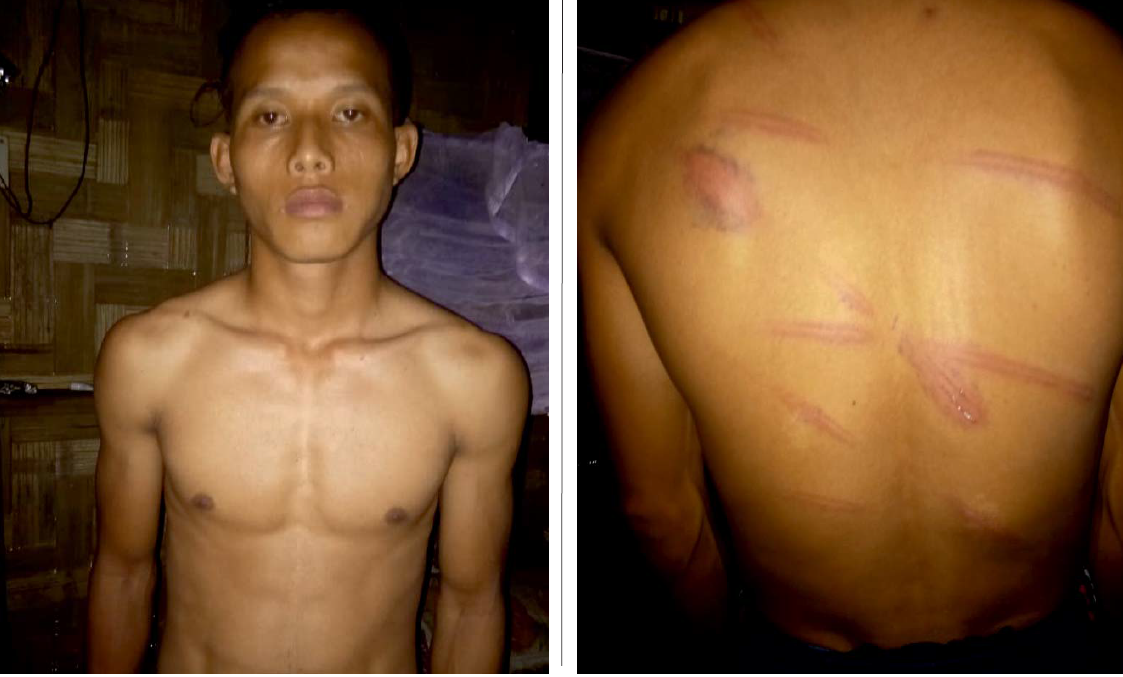 The students protested against the manhandling, ill-treatment and attempt to arrest the woman and her 14-year-old son. They also told the police that they cannot arrest the woman at night without presence of female police official. At this, Ajay Kumar further got infuriated and told them not to argue with him and teach him about law. Later, the four students were taken into custody, where they were slapped and beaten with sticks all over the body. The victim sustained injuries in their bodies, including in the back, head, temple, etc. They were released only on payment of Rs. 5000/- each as bribe. Later, the victims were admitted to the local hospital, where the doctors confirmed the torture on the victims.[22]
Case 2: Rape of a minor girl by Assam Regiment soldier
On 15 January 2018, Gake Kamra, a soldier of Assam Regiment, allegedly raped a minor girl after forcefully entering her house at Daporijo in Daporijo district. The victim was alone when the crime took place. The victim's family members lodged a complaint at Daporijo police station and the accused was arrested. The victim also alleged that she was raped by the accused in 2007.[23]
Case 3: NHRC orders compensation to 88 school girls for inhuman and degrading treatment
This case relates to 88 school girls being reportedly stripped of their dignity when three teachers allegedly forced them to remove all their clothes in front of the entire school i.e. Kashturba Gandhi Balika Vidyalaya at Tani Happa, Papumpare district,  as a form of punishment for writing vulgar words against the head teacher on a piece of paper. Consequently, FIR has been lodged against the alleged accused teachers in the police station. The NHRC 01.12.2017 took suo-motu cognizance of the matter (Case No. Case No. 44/2/10/2017) and issued notice to the Chief Secretary, Arunachal Pradesh calling for a report in the matter. It also directed Secretary, Ministry of Human Resource Development, Government of India to inform whether any guidelines for protection of the students from such maltreatment or humiliation have been made/circulated to the states, if so a copy of the same and status of their implementation be provided. Vide proceedings dated 25.05.2018 the State Government of Arunachal Pradesh was directed to pay a sum of Rs 5,000/- each as monetary relief to 88 girl students. The Chief Secretary was directed to submit compliance report along with proof of payment. Pursuant to the directions of the Commission, a report dated 04.02.2019 has been submitted by the Secretary (Education), Government of Arunachal Pradesh in which it is stated that the recommended monetary relief has been paid to the 88 victim girl students.[24]
---
Endnotes:
[1]. See Annual Reports of the NHRC, 2008-2009 to 2015-2016, & Lok Sabha Unstarred Question No.218 answered by Minister of State for Home Affairs, Hansraj Gangaram Ahir on 11 December 2018, https://mha.gov.in/MHA1/Par2017/pdfs/par2018-pdfs/ls-11122018/218.pdf
[2]. Tinsukia protests lock-up death, The Telegraph, 26 November 2017, https://www.telegraphindia.com/states/north-east/tinsukia-protests-lock-up-death/cid/1531546
[3]. See NHRC Case No. 157/2/4/2014-AD
[4]. See NHRC Case No.18/2/4/2012
[5]. See NHRC Case No. 5/2/4/2016
[6]. Ibid
[7]. See NHRC Dairy No. 10561/IN/2019
[8]. Tinsukia protests lock-up death, The Telegraph, 26 November 2017, https://www.telegraphindia.com/states/north-east/tinsukia-protests-lock-up-death/cid/1531546
[9]. Tension along Assam-Arunachal border following Assamese youth's custodial death in Arunachal Pradesh, Northeast News, 25 November 2019, https://nenow.in/north-east-news/assam/tension-along-assam-arunachal-border-following-assamese-youths-custodial-death-in-arunachal-pradesh.html
[10]. Proceedings of NHRC in case no. 157/2/4/2014-AD
[11]. Proceedings of NHRC in case no. 157/2/4/2014-AD
[12]. NHRC complaint dated 16 September 2019 filed by Campaign Against Torture
[13]. NHRC complaint dated 16 September 2019 filed by Campaign Against Torture
[14]. Complaint of human rights violation lodged with NHRC, The Arunachal Times, 10 July 2019, https://arunachaltimes.in/index.php/2019/07/10/complaint-of-human-rights-violation-lodged-with-nhrc/
[15]. Villagers allege army atrocity, FIR lodged, The Arunachal Times, 21 November 2018, available at https://arunachaltimes.in/index.php/2018/11/21/villagers-allege-army-atrocityfir-lodged/
[16]. Man accuses Arunachal cop of assault, extortion, The Times of India, 15 July 2018, available at https://timesofindia.indiatimes.com/topic/cop-accuses-son-of-assault
[17]. NHRC Case No. 3/2/3/2018
[18]. Prison Statistics India 2016, National Crime Records Bureau, Govt. of India
[19]. See Annual Reports of the National Human Rights Commission from 2008-2009 to 2015-2016 and Annexure to Rajya Sabha Unstarred Question No.2321 answered by Minister of State for Home Affairs Hansraj Gangaram Ahir on 2 January 2019, https://mha.gov.in/MHA1/Par2017/pdfs/par2019-pdfs/rs-02012019/2321.pdf
[20]. NHRC Case No. 44/2/10/2018-JCD
[21]. Jully Prisoner allegedly commits suicide under mysterious circumstances, Arunachal Times, 25 April 2019 https://arunachaltimes.in/index.php/2018/04/26/jully-prisoner-allegedly-commits-suicide-under-mysterious-circumstances/
[22]. See NHRC Diary No. 10823/IN/2019
[23]. Jawan arrested for rape, The Telegraph, 24 January 2018, https://www.telegraphindia.com/states/north-east/jawan-arrested-for-rape/cid/1440098
[24]. NHRC Case No. 44/2/10/2017